People / Partners
The National Science Foundation (NSF) supports this research through the Ocean Technology and Interdisciplinary Coordination program (OCE/GEO), Award #1131390.
At URI Dan Codiga leads the project, with engineering support from Jim Fontaine of Exeter Science Services. Assistance from Dennis Nixon is crucial to help resolve various legal and practical issues. Help from Steve Granger, including capable escort boat operations, during field tests is essential. Dave Ullman has been on field deployments, and generously loans equipment including the ADCP. Chris Roman makes his autonomous kayak and associated systems available for practice with autonomy software. Stephen Licht shares his expertise with autonomy software. Chris Baxter, John King, and Fred Pease have made short-term berthing options on Allen Harbor possible. Tony Frias and Tom Orvosh have provided expert crane services at sometimes unusual hours. Diving support from Rebecca Flynn and Paulstephen Chierico, as coordinated by Anya Watson, has been crucial. Anya Watson and Edwin Requintina gracefully accommodate requests to reschedule shared department trucks.
Mike Filimon analyzed archived Rhode Island Sound AIS data and completed simulations with autonomy software while earning his MS in Ocean Engineering (2013). Amit Nehra is now pursuing his MS in Oceanography.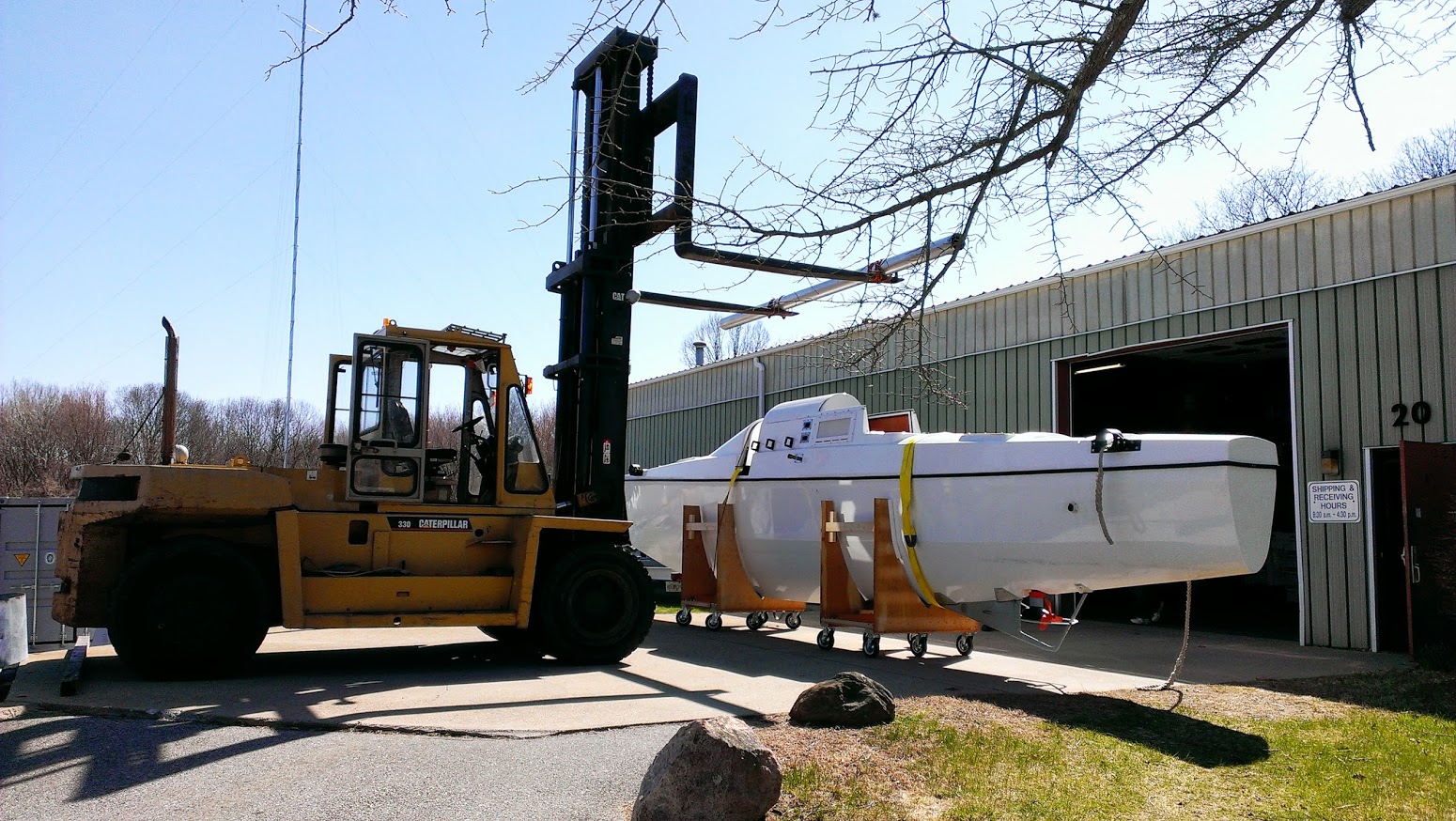 Craning hull from trailer to hullcarts, to enable entry to lab for work during winter. Photo: Amit Nehra.
At Searobotics (www.searobotics.com), Don Darling, Geoff Douglas, Rich Musco, and Hal Dewar demonstrate skillful engineering and continue to share their time generously.
Ongoing guidance from Mr. Edward LeBlanc, Waterways Management Division Chief at Coast Guard Sector Southeastern New England (see article in Marine Log Magazine by LTJG Jacqueline Haase) is essential with respect to operating SCOAP in compliance with USCG regulations.
Mike Benjamin at MIT is thanked for developing and maintaining the MOOS-IvP Helm autonomy software as an open-source resource and providing prompt assistance on related questions. Arjan Vermeij from CMRE NURC/NATO, and Jean-Francois Kamath and Bill Porter from NSWC Panama City, have been helpful regarding interfacing MOOS-IvP with the Searobotics control software.
Jim Shriner kindly makes his ramp at Mill Creek Marine available for SCOAP launch/recovery on Allen Harbor.
Flexibility of Phil LeBlanc, Safe/Sea Towing and Salvage, in providing emergency towing services (should they be needed) for such an unusual craft is appreciated.